Building strong relationships with firms is an essential skill for in-house legal teams.
In our work with some of the world's largest in-house legal teams, we often speak with GCs and legal leaders who want their teams to have more strategic conversations with their firms — but they also don't want their people to be buried in manual, time-consuming work.
That's why not all in-house teams conduct business reviews with their firms. And those that do don't always conduct them on a regular basis.
Real-time Business Reviews from PERSUIT
At PERSUIT, we have a unique view into the relationships between in-house teams and their firms.
So as part of our mission to solve what's top of mind for GCs — and empower data-driven legal departments in the process, we just launched a new tool in our analytics reporting called Real-time Business Reviews.
These analytics provide in-house teams with invaluable data on every firm that they work with in PERSUIT.
Here's how it works.
Real-time data about your firms
With Real-time Business Reviews, in-house teams have all of the data they need, compiled for them across every single firm.
Whenever you want to have a business review with your firm, all of their data is up to date and ready to present to any firm, at any time.
Three areas of data about your firms
There are three main areas of Real-time Business Reviews:
Activity Breakdown
Competitive Intelligence
Proposal Feedback.
Here's a look at each:
Activity Breakdown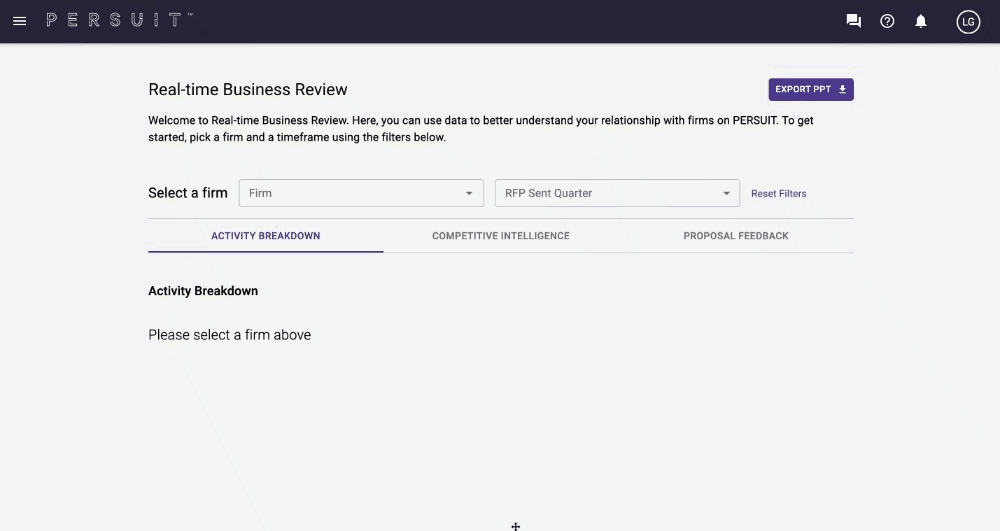 Once a firm is selected above, users will see an overview of that firm's activity for the given time period. The Activity Breakdown reporting includes two main charts:
Performance Analysis Funnel: Walk a firm through their RFP performance starting with the total number they were invited to, down to the amount of RFPs won. This chart is wildly efficient for both sides to see where firms can improve at any stage of the funnel.
RFPs by Practice Area: Take a more strategic approach to helping firms understand where they can potentially win more business by Practice Area.
Are they winning a small slice of a huge pie in a certain area? They should double down resources to win more work here.
Or do they win a lot, but it's concentrated in one practice area? They should expand to others where you have more work.
Help them understand how to compete more often.
Competitive Intelligence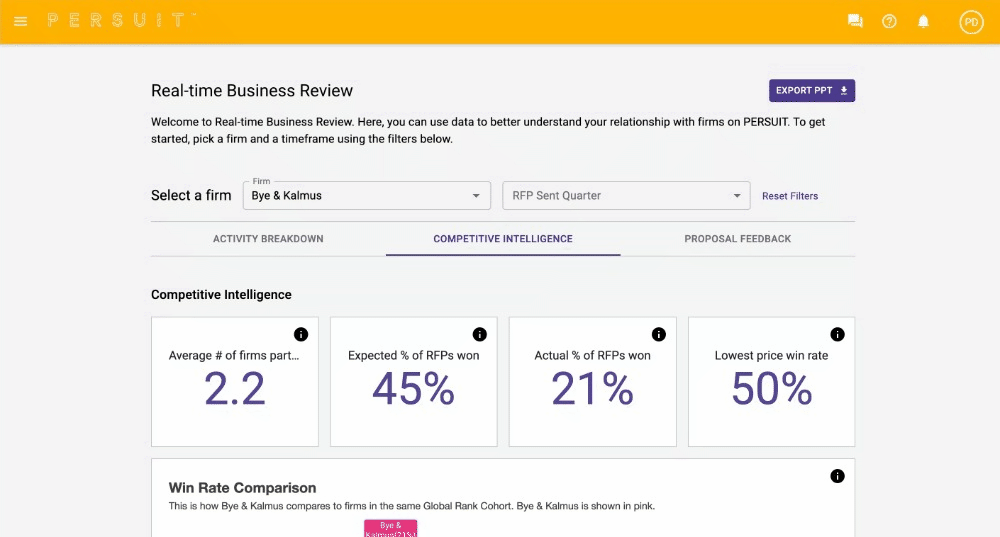 Competitive Intelligence reporting is all about benchmarking data.
Firms are interested in their own win rates, but they're also interested in the win rates of their competitors — data they likely have never received before. This is to answer the question:
"How do we compare to other firms similar to us?"
This new reporting lets you give that feedback and context to your firms. The two main areas of this competitive intelligence page are:
Win Rate Comparison: How does your win rate on RFPs compare to other firms in your global rank cohort?
Price Variance: When you win or lose proposals, how much did your final price compare to other firms in your global rank cohort?
Proposal Feedback
The Proposal Feedback area empowers you to see the quantitative and qualitative data behind all or individual RFPs. Instead of going back through requests trying to make sense of how a firm could improve their proposal, this page brings all your data together in one place. Two key reports in Proposal Feedback are:
Ratings: Help firms to know their average proposal rating based on their scorecards, and see how those ratings break down across all major categories.
Comments: This gives firms nuggets of information for how they can improve or what they did well across individual proposals.
Note: PERSUIT is used by the world's leading in-house legal teams to engage outside counsel in a way that's more fair, more objective, more diverse, more equitable, and more effective for everyone involved. Learn more about PERSUIT.